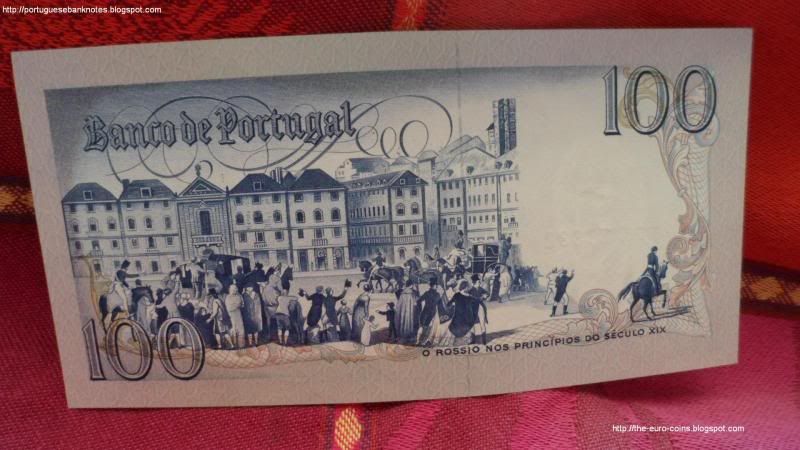 Depicted in the image, for the 3rd time (3 different issues), is the portuguese banknote featuring the romantic poet Manuel Maria Barbosa do Bocage,
who was born in Setúbal (1765-1805), a town south of Lisbon,
seated on the right with paper, books, pen and ink
. Printed in blue, pink and purple.
The reverse of the note shows a portion of Lisbon - image of Rossio Square as it was in the early 19th century, with crowd scene, printed in blue, pink, red and green.
Manuel Maria Barbosa du Bocage is considered to be the most representative Portuguese writer of the eighteenth century, standing out in a period in which Portuguese literature is renowned for its otherwise poor performances. For some, Bocage is the greatest Portuguese poet after Luís de Camões and Fernando Pessoa. Known for his poetry and translations, he was one of the most popular writers of his generation, particularly appreciated for his satiric and erotic poems and, above all, for the anecdotes that circulated about him, the majority of which were false or apocryphal. Bocage's years spent as a "bohemian" inhabitant of Lisbon also contributed to his rakish image, which evolved over the years to the point of becoming, in the 1970s, a symbol of the defense of freedom.
First issue: 1980, 2 September
Issuing number: 30.944.000
Second issue: 1981,

24 February Issuing number: 100.400

.000
Third issue: 1984, 31 January

Issuing number: 49.948.000
Fourth issue: 1985, 12 March Issuing number: 29.979.000
Fifth issue: 1985, 4 June Issuing number: 20.278.000
Recalled

:

1990, 31 May